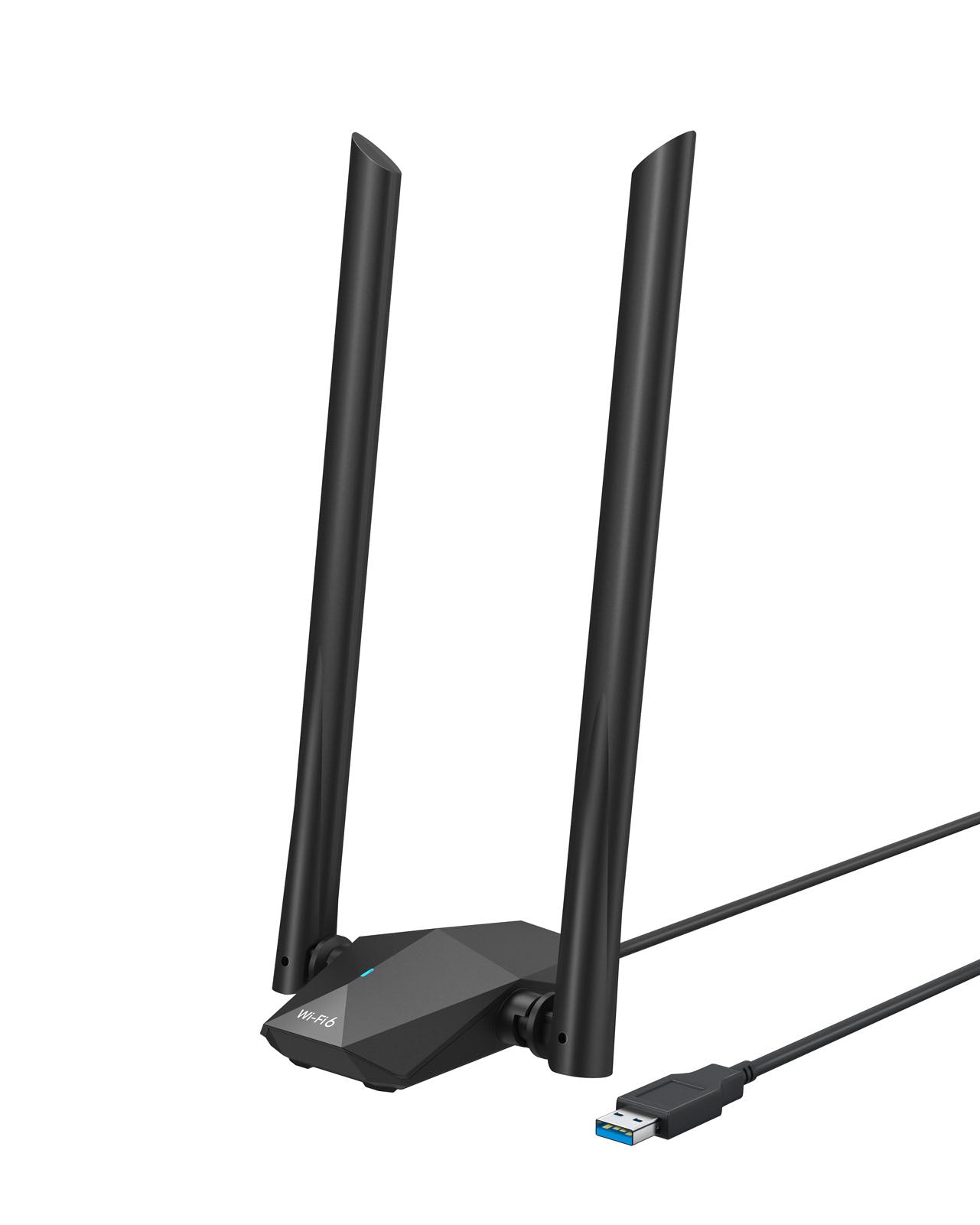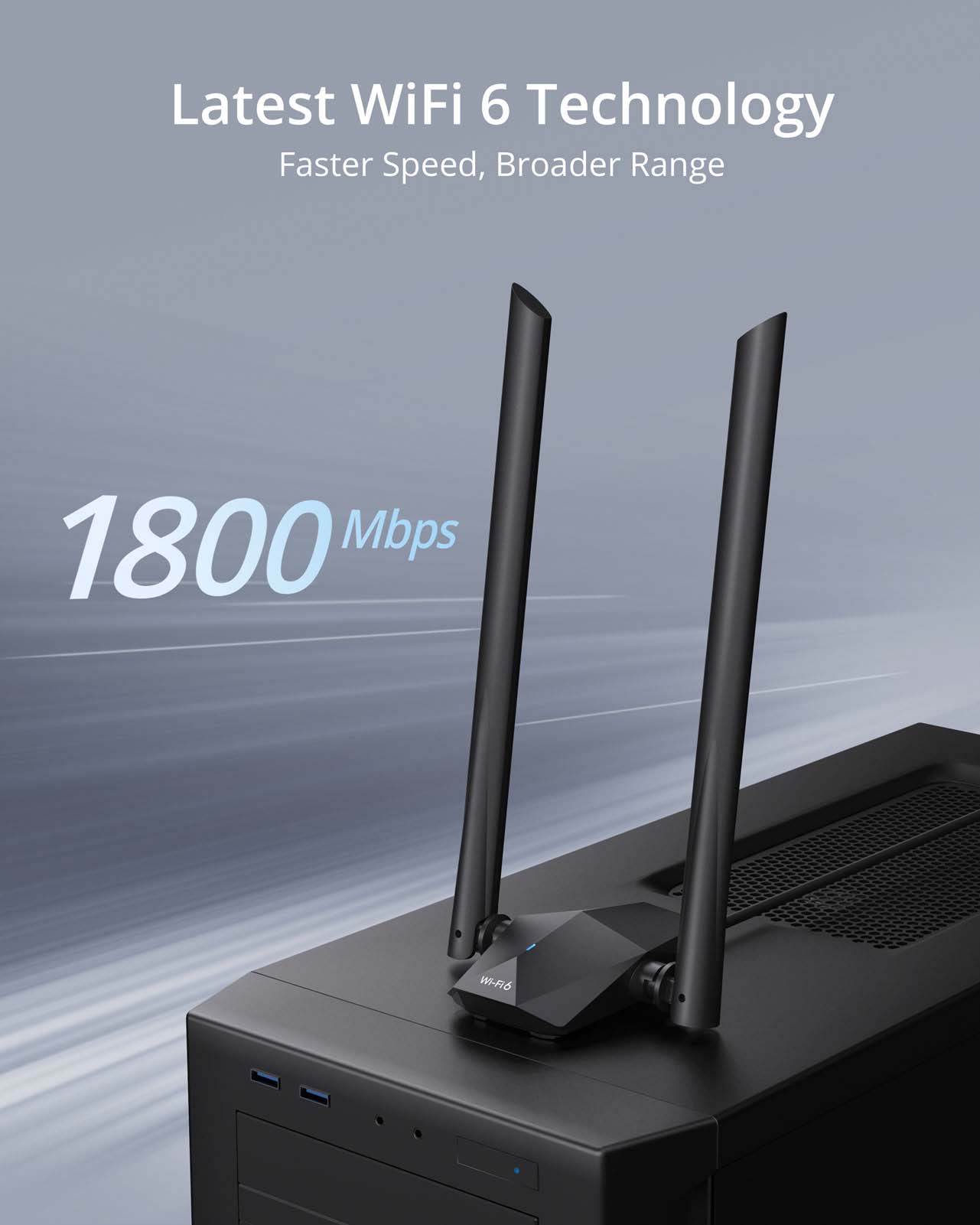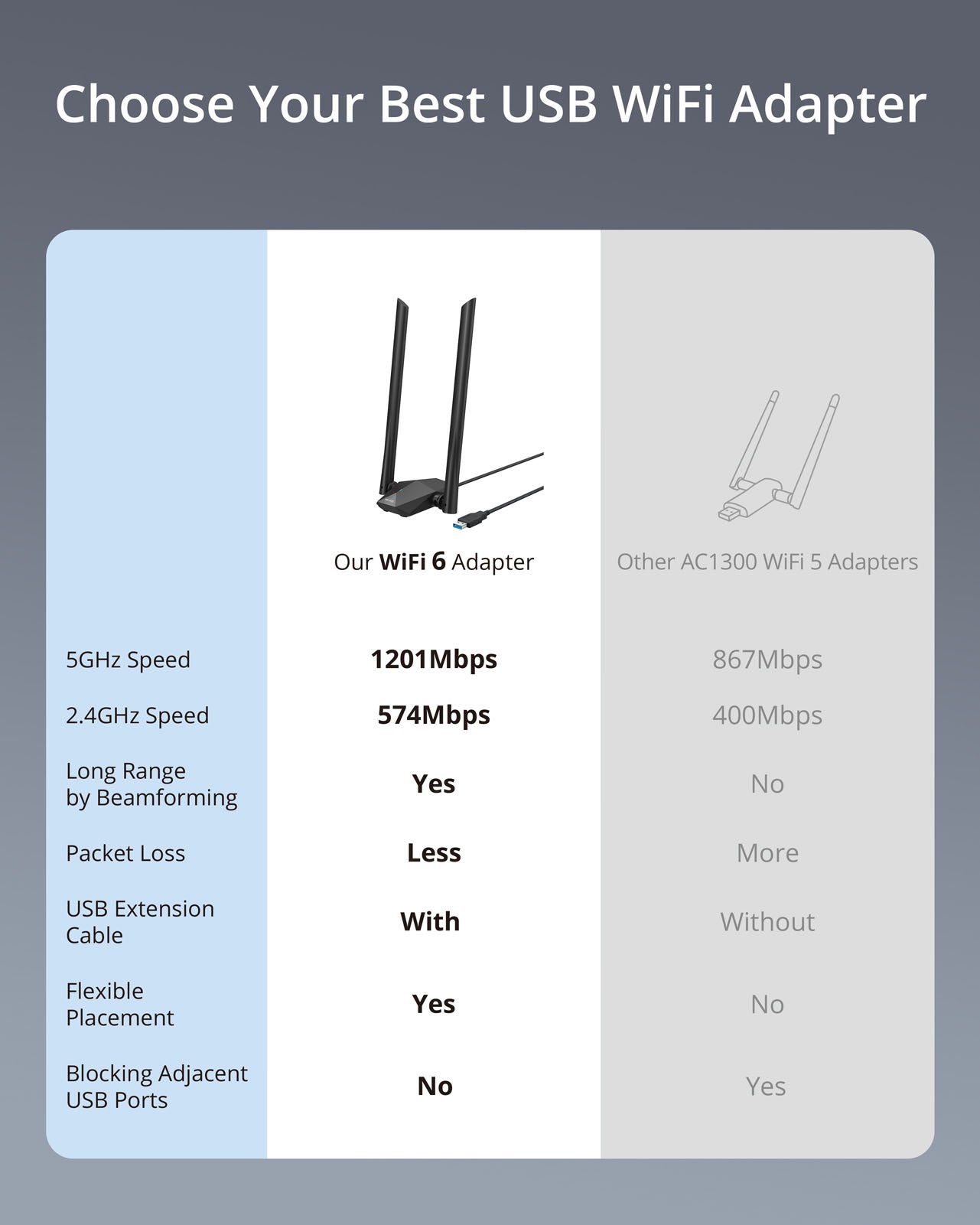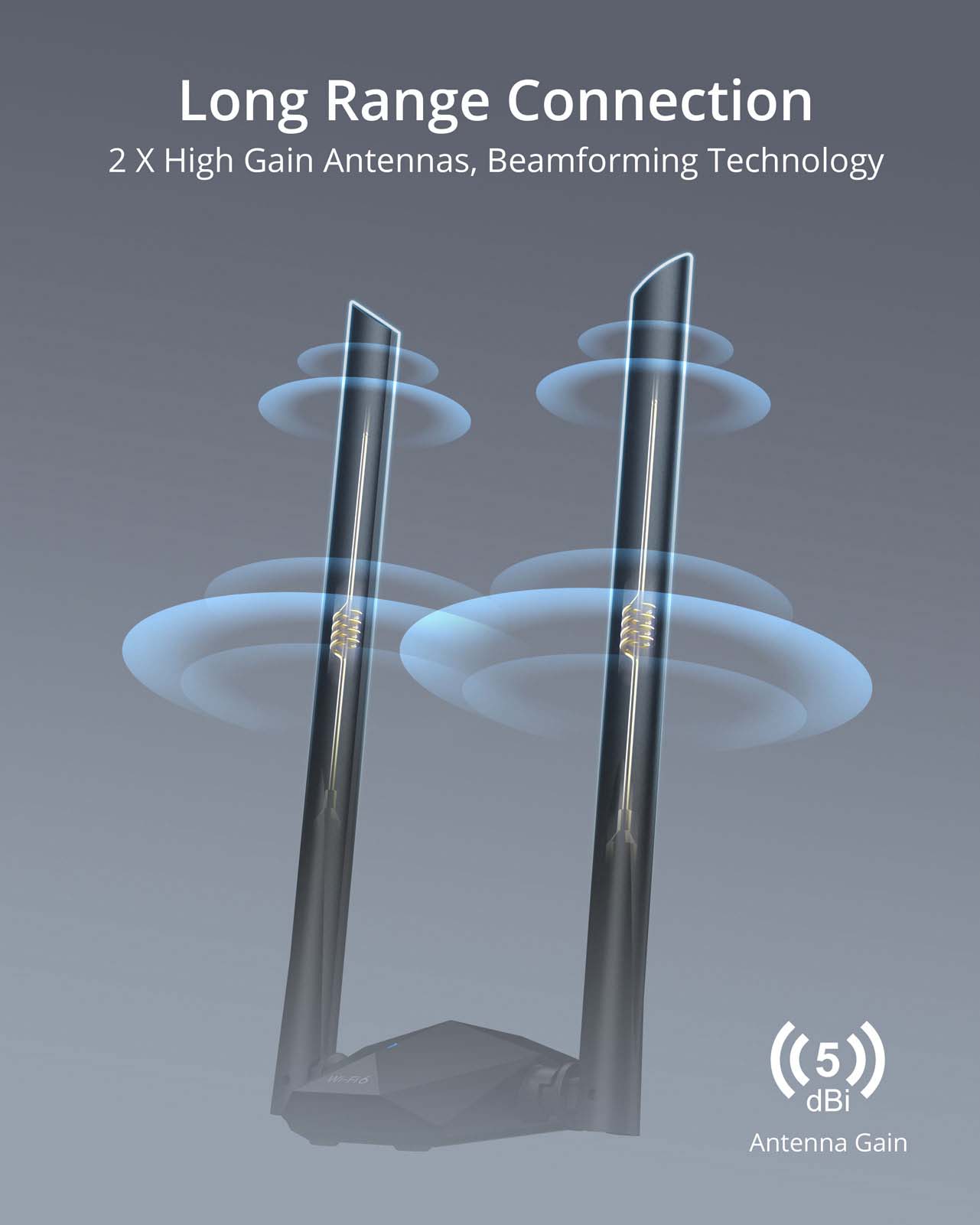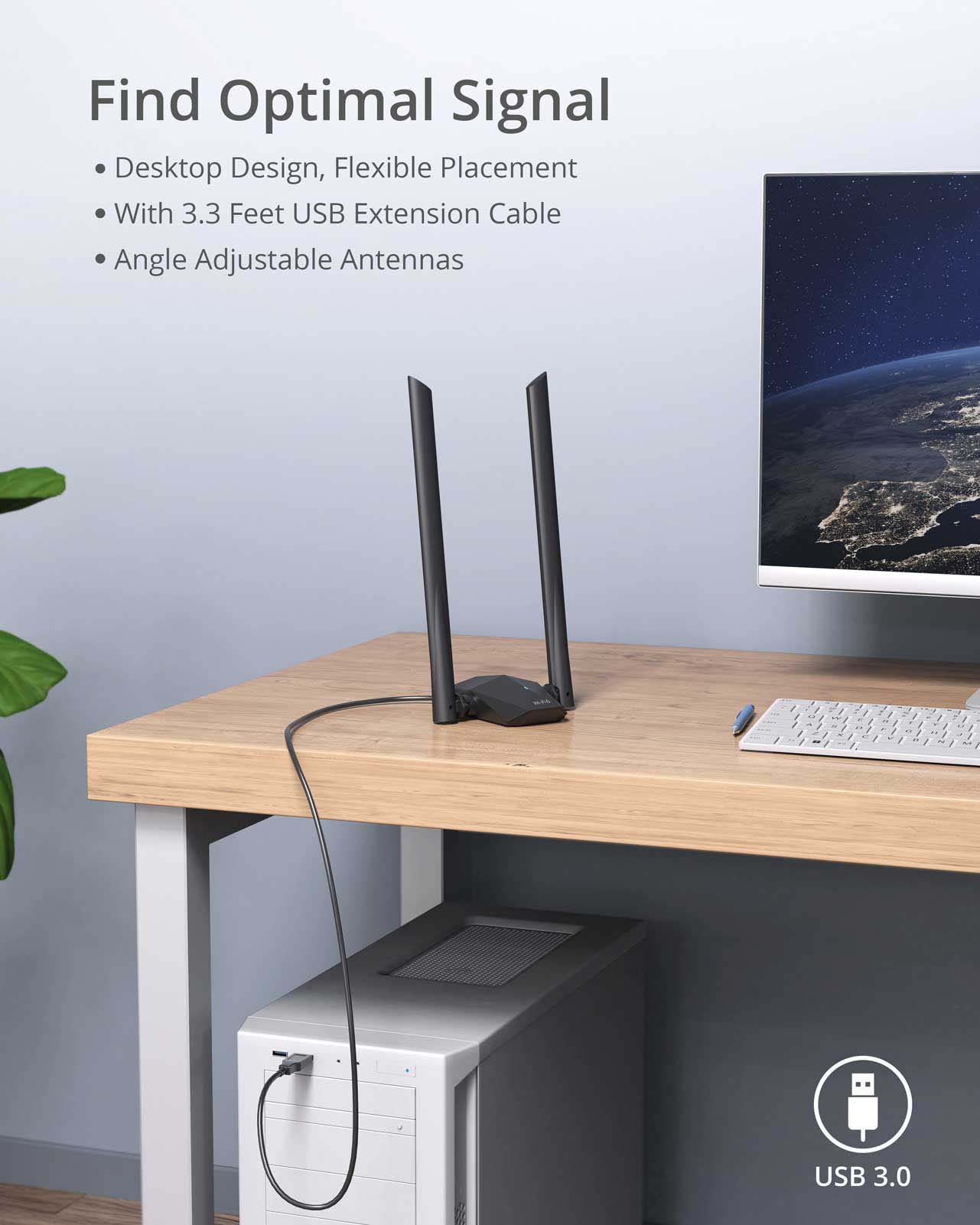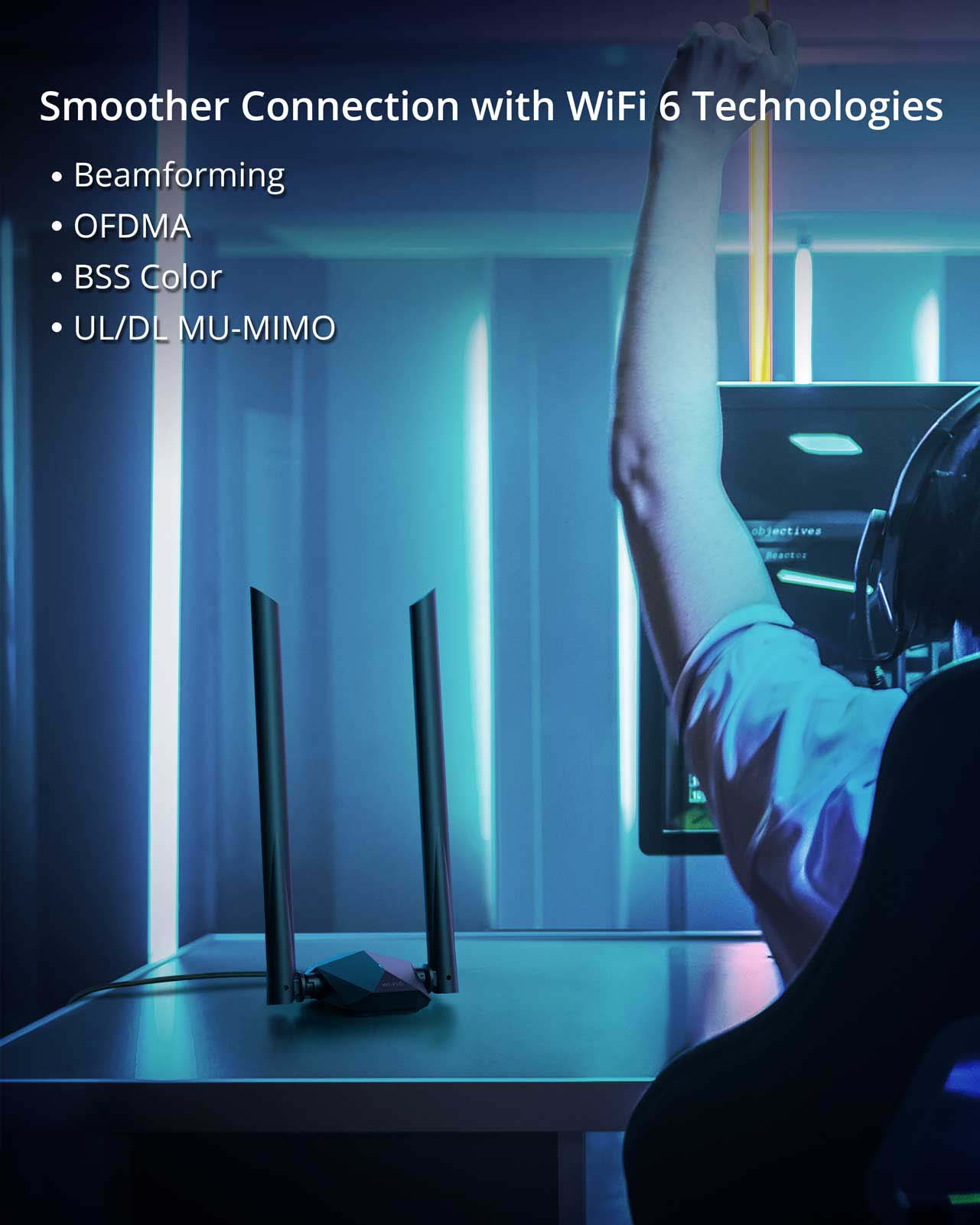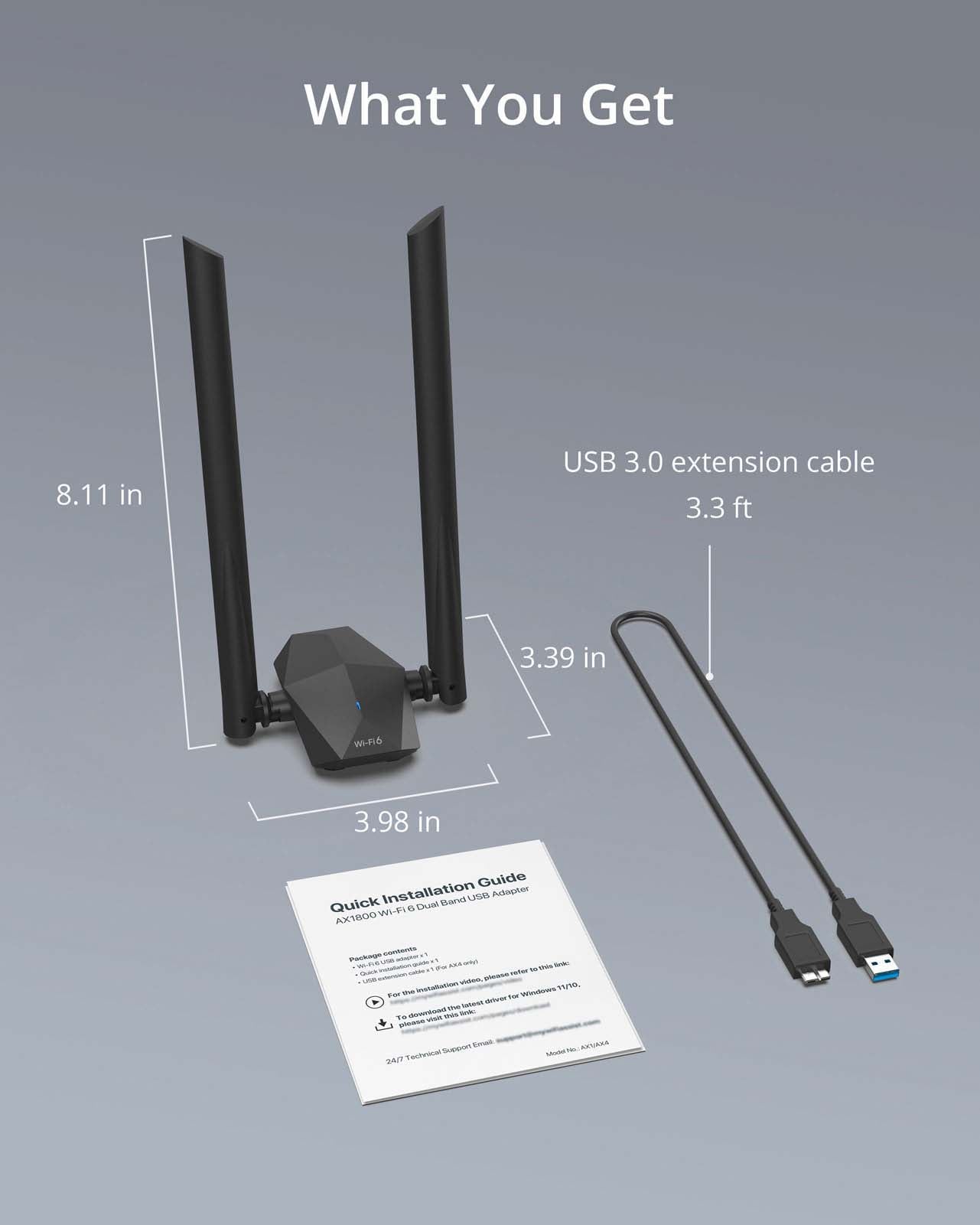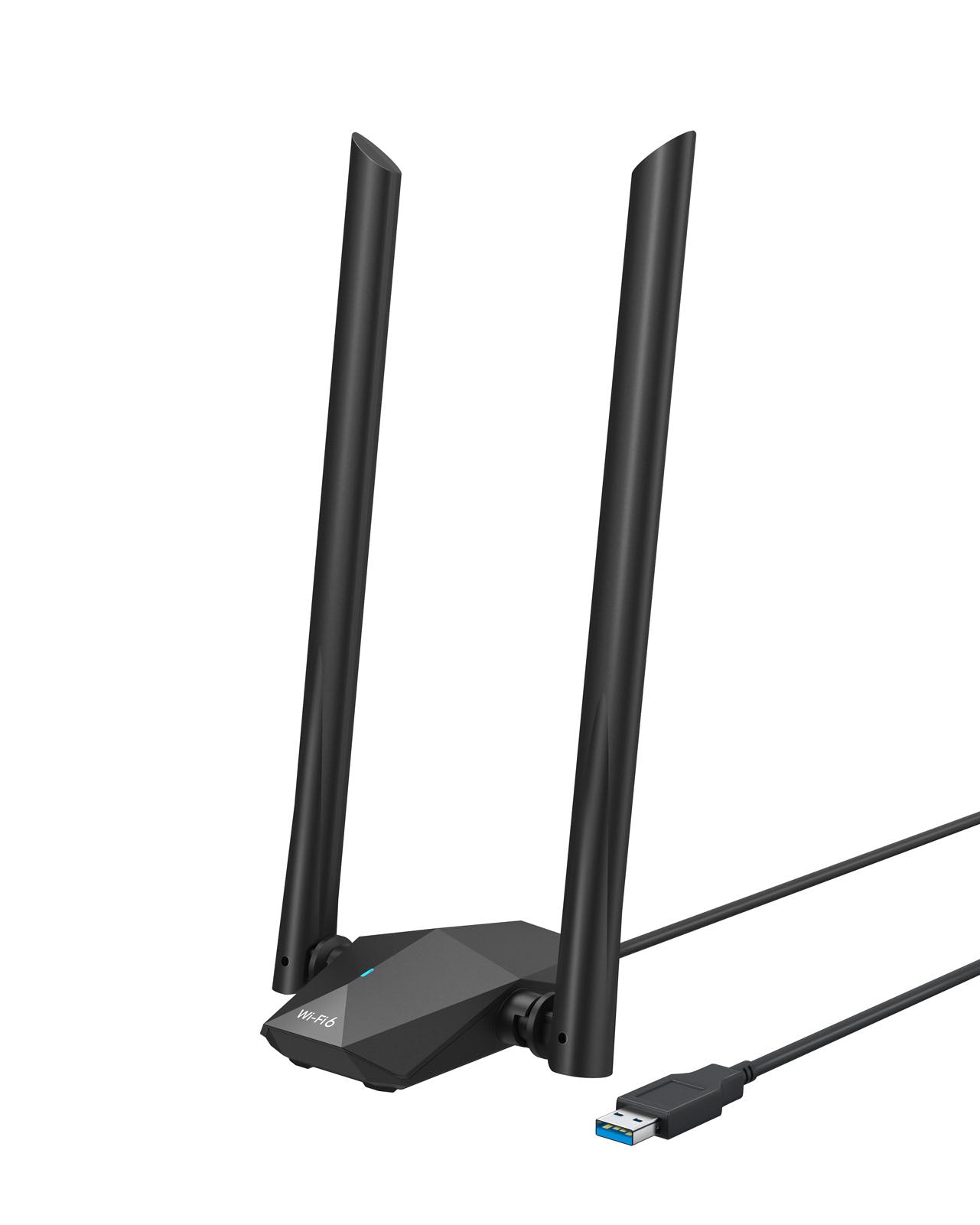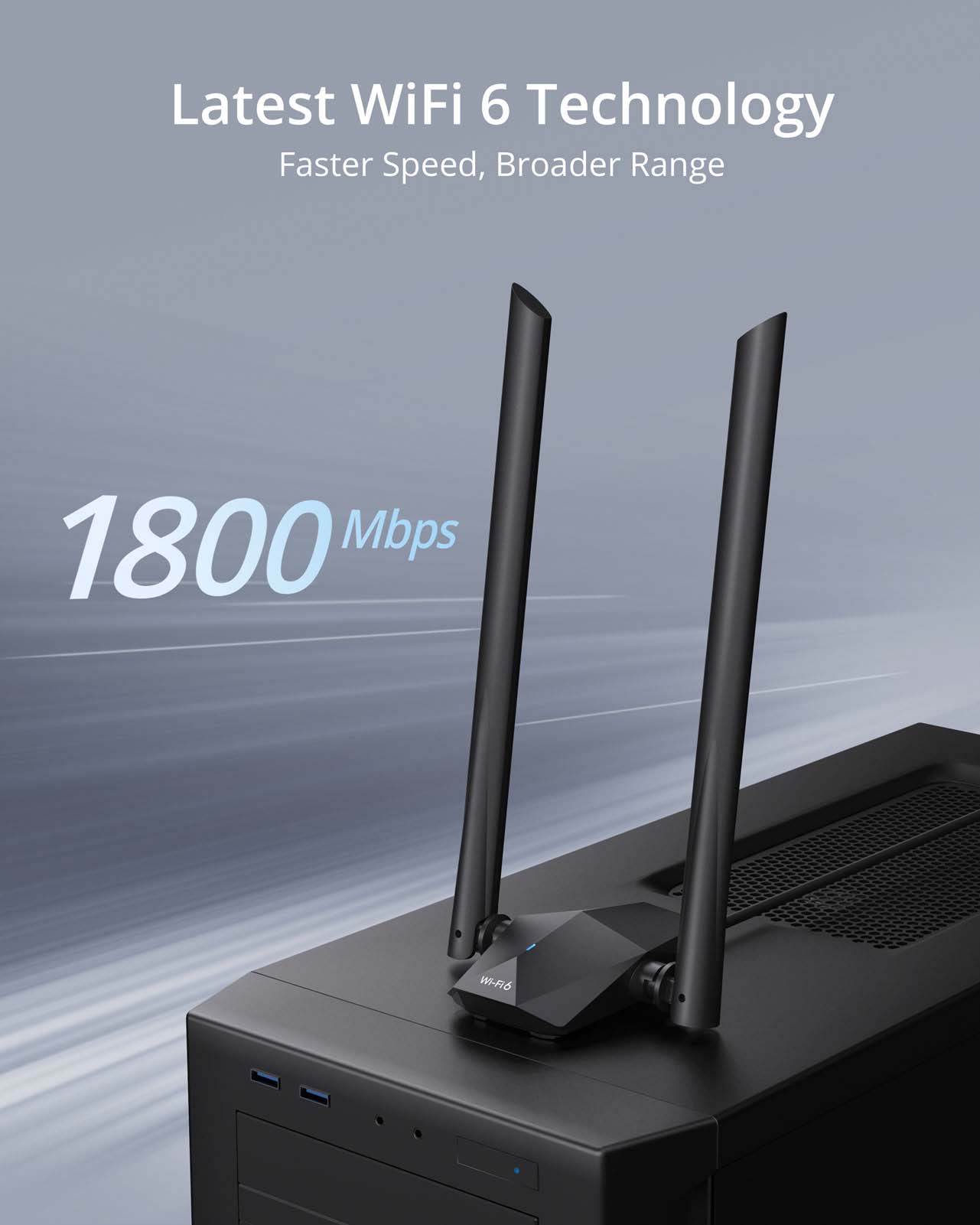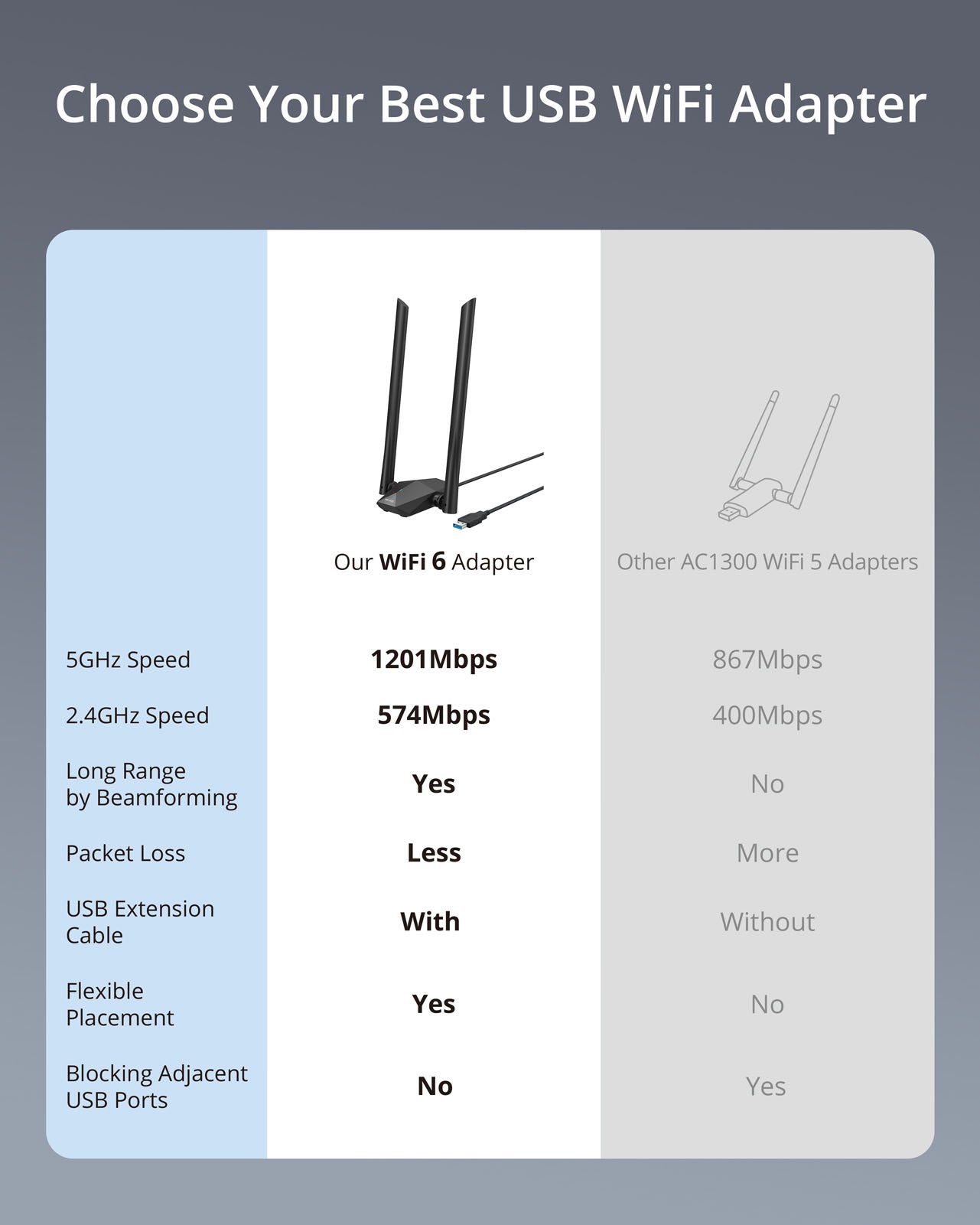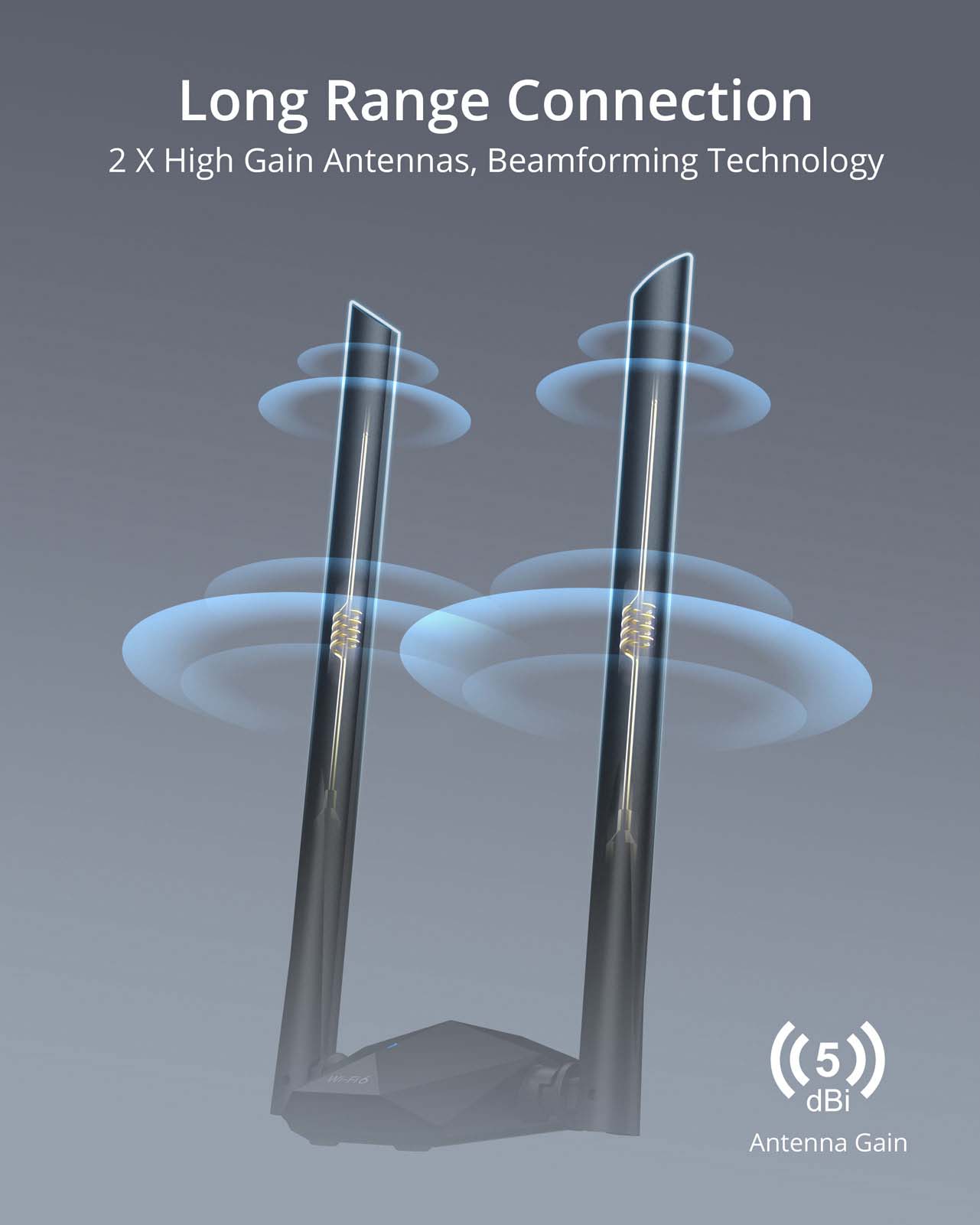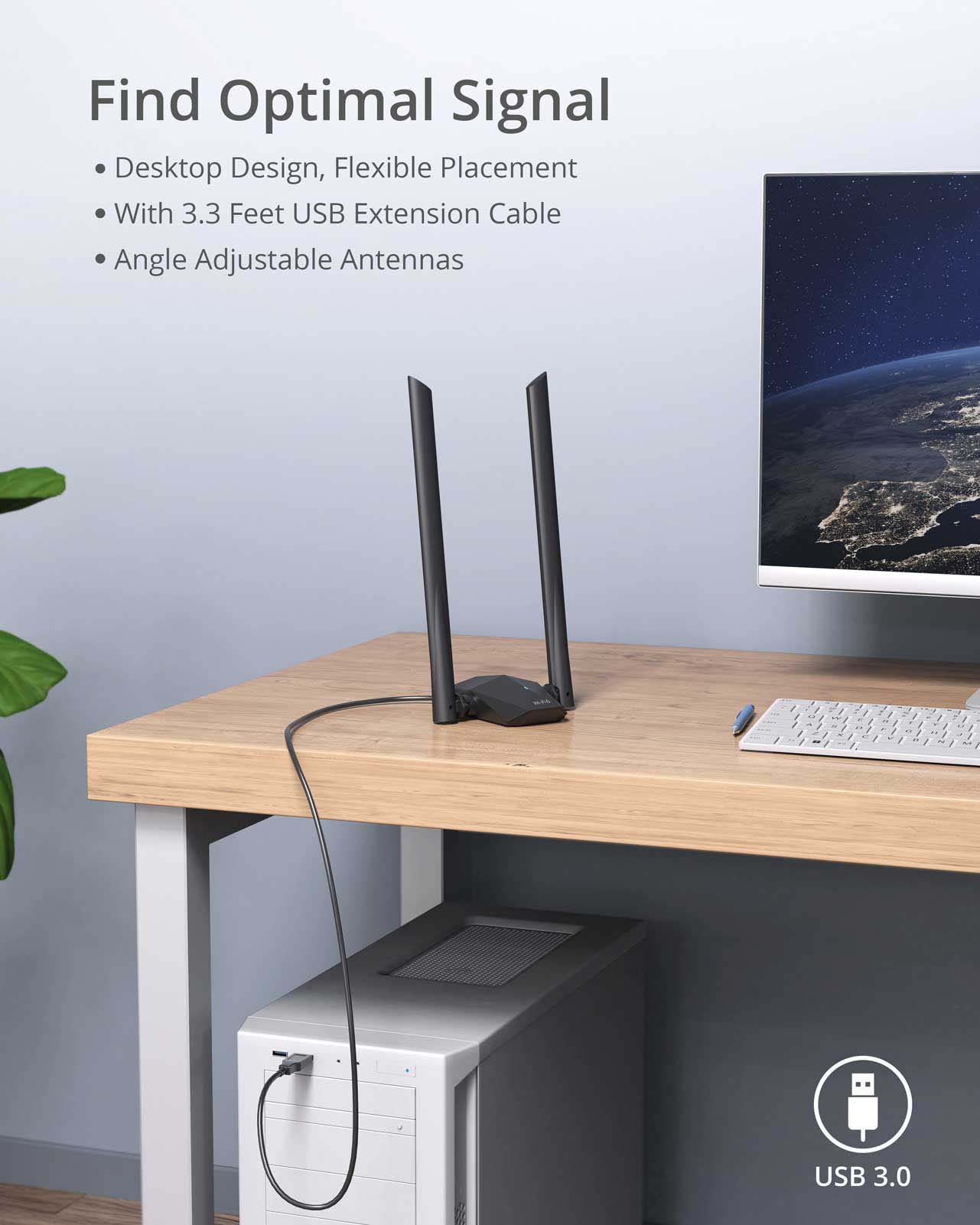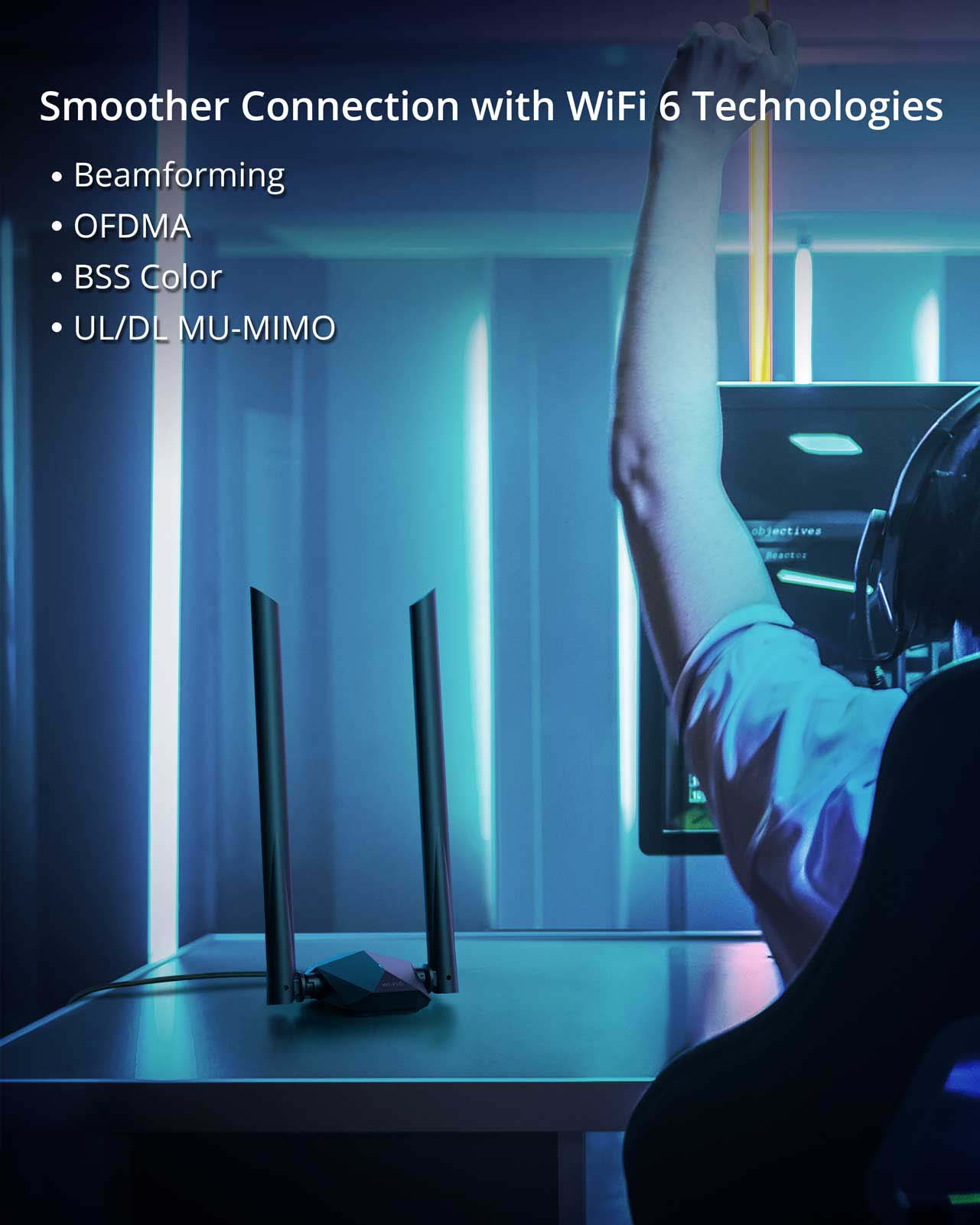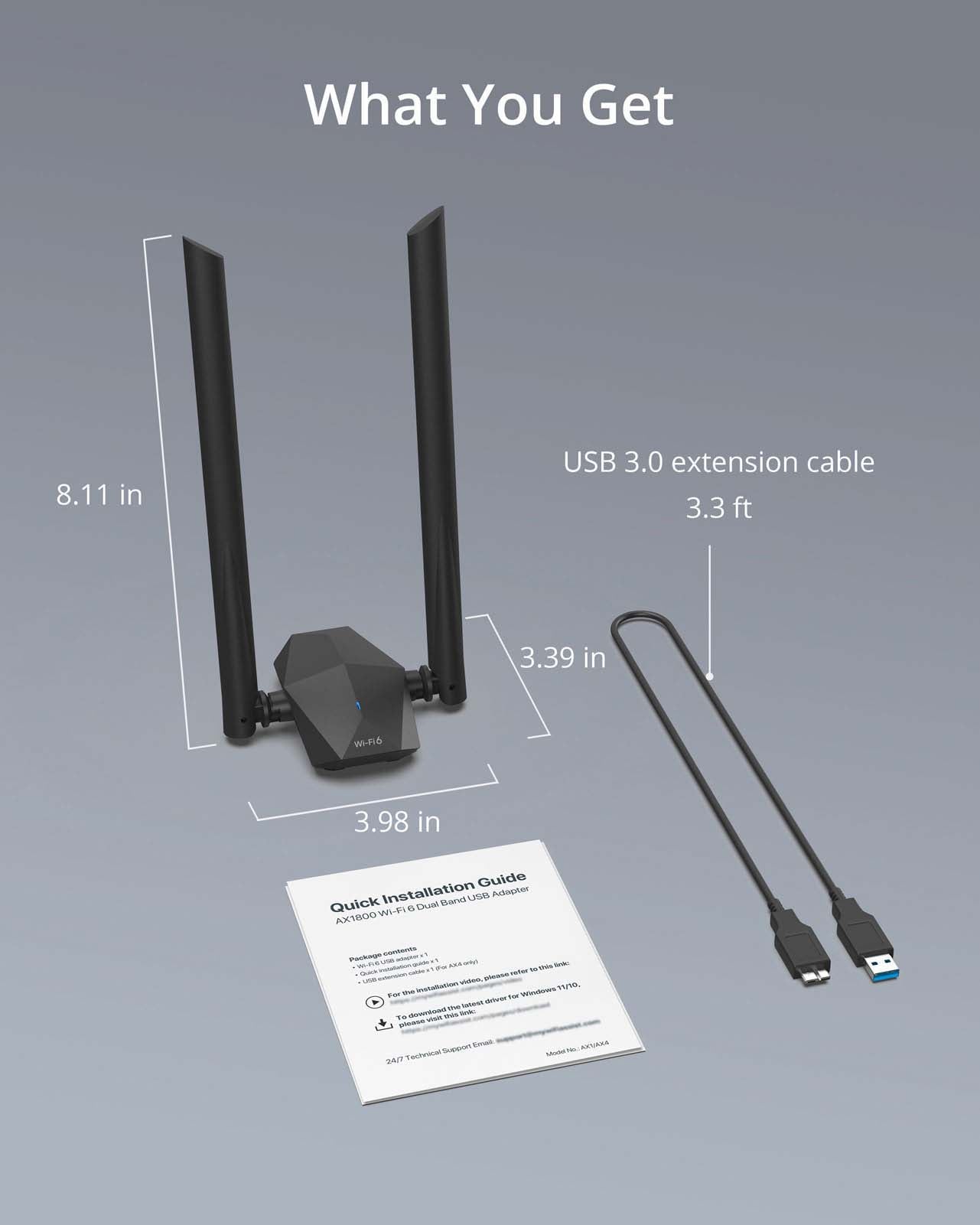 AX1800 Long Range USB WiFi Adapter for PC - AX4
·Speed up PC WiFi
: The latest 1800Mbps USB WiFi adapter delivers wireless speeds that are 38% faster than any AC1300 USB WiFi adapters. Supports Windows 11 / 10 ONLY. For optimal performance, please download latest driver from website included in package. Windows 8/7/Vista/XP NOT supported
·Upgrade Dual-band Speeds
:
Get 1201Mbps on 5GHz or 574Mbps on 2.4GHz on desktop, laptop PC with this 
USB WiFi adapter
. It meets all your needs for HD streaming, online gaming and video calls
·Broader Range
:
2 pieces of 
5dBi 
high gain antennas ensure stronger signal reception through multiple walls and floors. Beamforming technology delivers targeted signals and reliable connections no matter where your PC is located
·Find Optimal Signal
:
Comes with desktop design and a 3.3-feet USB 3.0 extension cable. Flexibly place your 
USB WiFi adapter
 in a spot with optimal signal reception
·Ultra-smooth Experience
:
Say goodbye to buffering with this 
USB WiFi adapter
! OFDMA, UL/DL MU-MIMO technologies enable the most efficient connection on PC
Level up PC WiFi
The AX1800 USB WiFi 6 adapter upgrades your PC for an overall better WiFi experience, boosting ultra-fast dual band speeds (1201Mbps on 5GHz or 574 Mbps on 2.4GHz band). 2 X high gain antennas with Beamforming technology deliver a consistently strong wireless signal through long range. Featured WiFi 6 technologies, such as OFDMA, UL/DL MU-MIMO, 1024-QAM, and WPA3, provide a more reliable and secure connection so you can stream, game, and work with confidence on your PC. Tap into the power of WiFi 6 for faster speed, broader range, and lower latency than WiFi 5, such as AC1300 or AC1900, etc.
Stronger Signal Reception
2 integrated power amplifiers boost dual-band WiFi ranges simultaneously, especially the 5GHz WiFi band. 5GHz WiFi signals penetrate multiple walls and floors throughout your house with no signal loss and speed compromise.
Pick Up Optimal WiFi
With 180° and 90° rotations, 2 pieces of 5dBi high gain antennas deliver ultra-reliable long-distance WiFi range. WiFi will not be an issue whether your PC is in the basement or attic.
Next-Gen WPA3 Encryption
Robust password protection secures personal data even when your PC is connected to a public network. You can fully enjoy WiFi 6 speeds on your desktop and laptop PC with added peace of mind.
Faster USB 3.0 Port
The USB 3.0 port works up to 10 times faster than the USB 2.0 port. Besides, you can connect this WiFi 6 USB adapter to your PC via its slim USB 3.0 cable, without blocking any adjacent USB ports on your PC.
Universal Compatibility
Compatible with any desktop, laptop PC with Windows 10 OS. It takes your PC WiFi to the next level while being backward compatible with WiFi routers of 802.11 ac/n. Breathe new life into old PCs with this budget upgrade.
Step 1
Download the latest driver from the website included in the product package. Install the driver and restart your PC.
Step 2
Plug the USB WiFi adapter into a USB 3.0 port of your PC.
Step 3
Connect to your WiFi network. Enjoy fast WiFi!
Setup Video
Download Center
Contact us