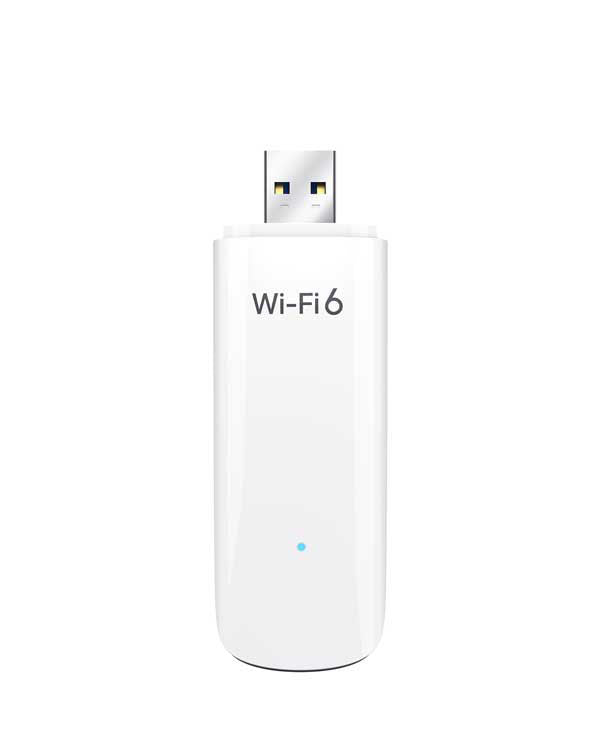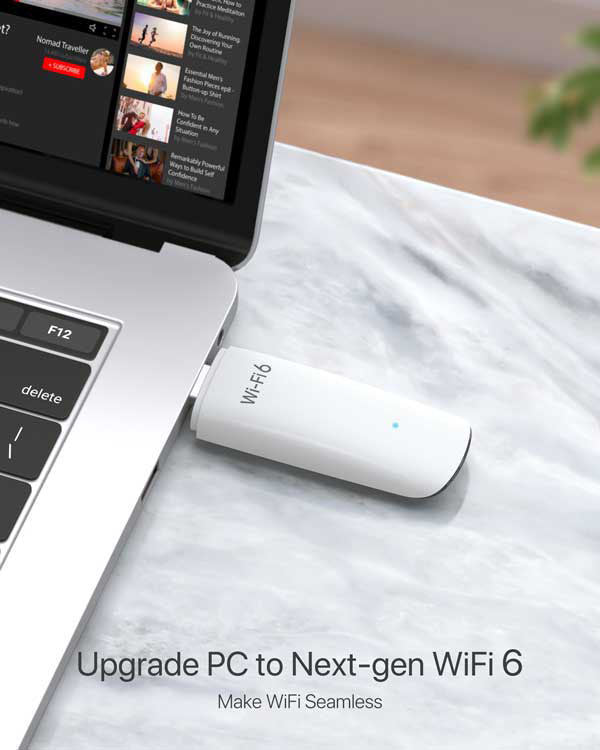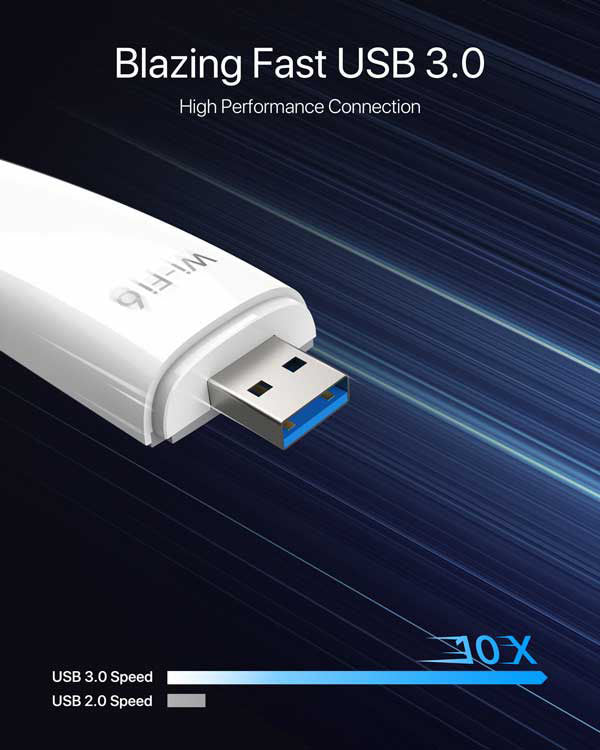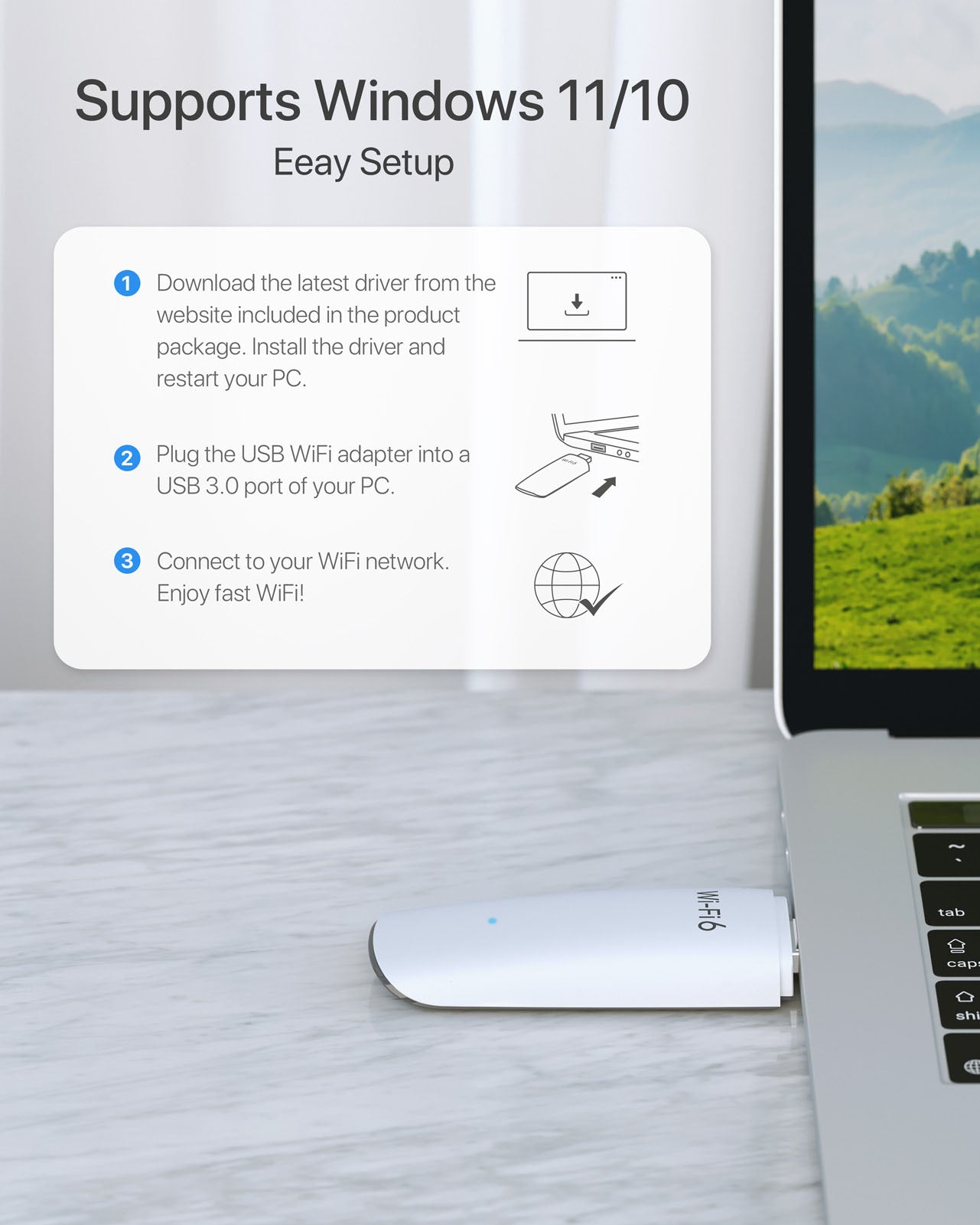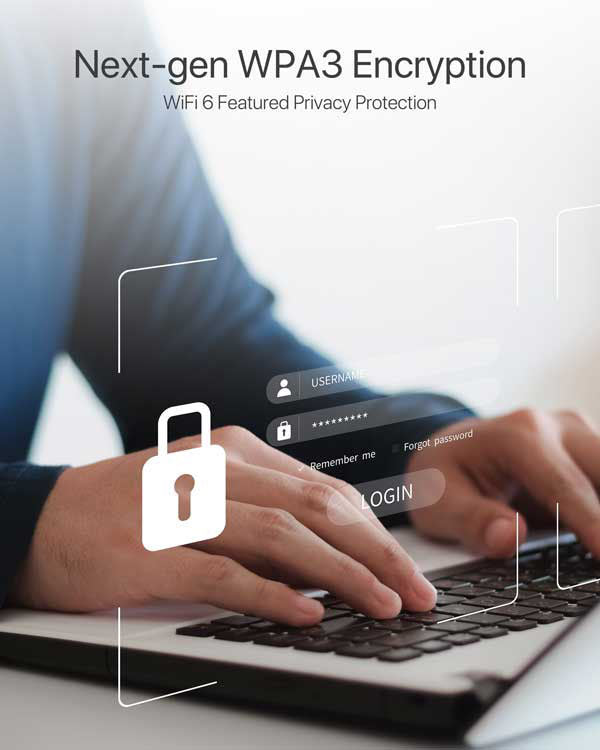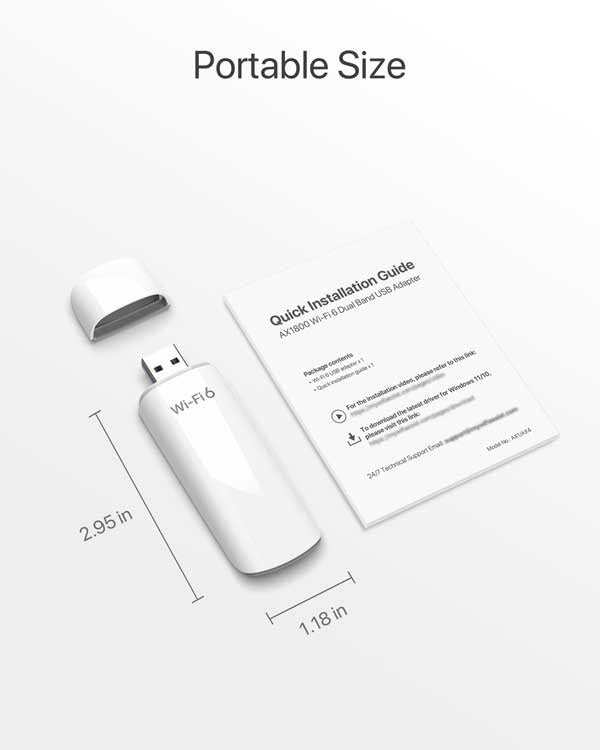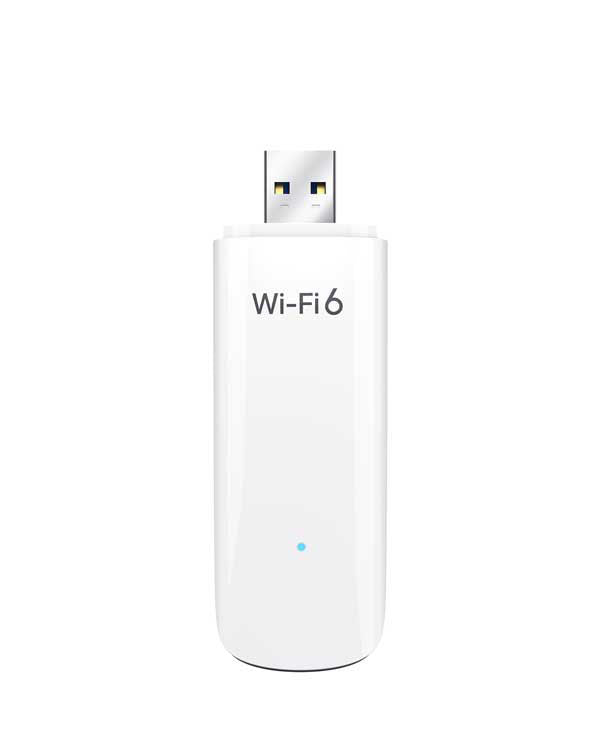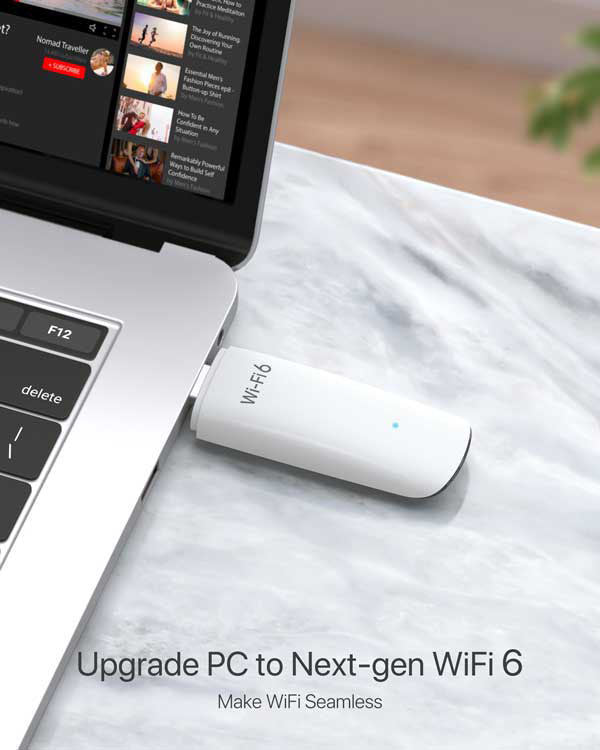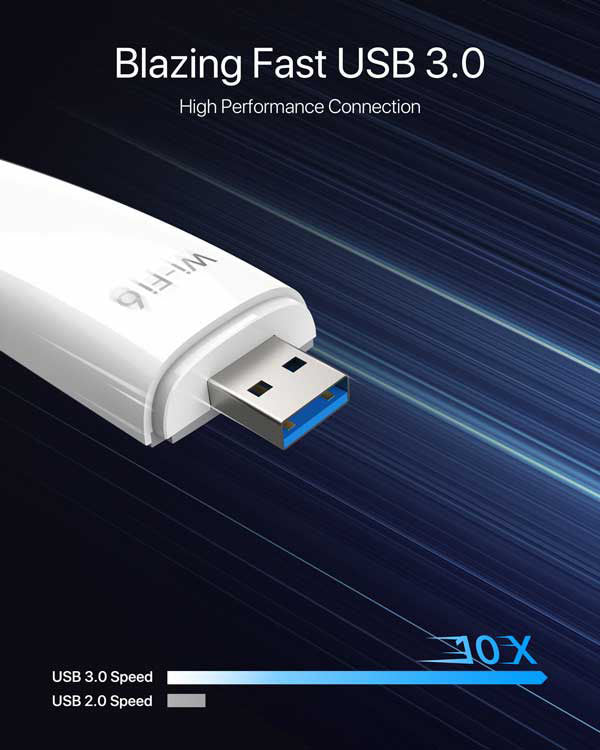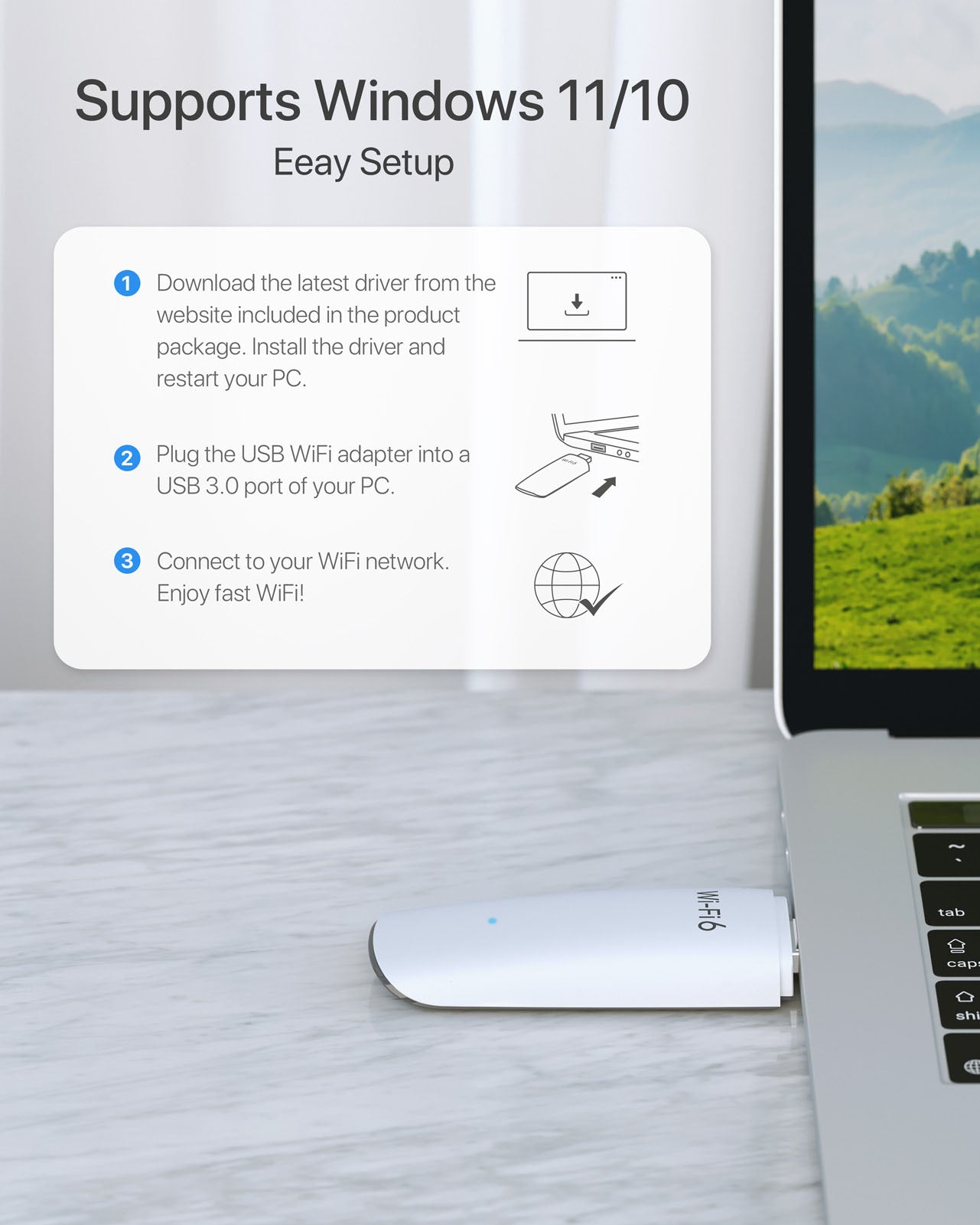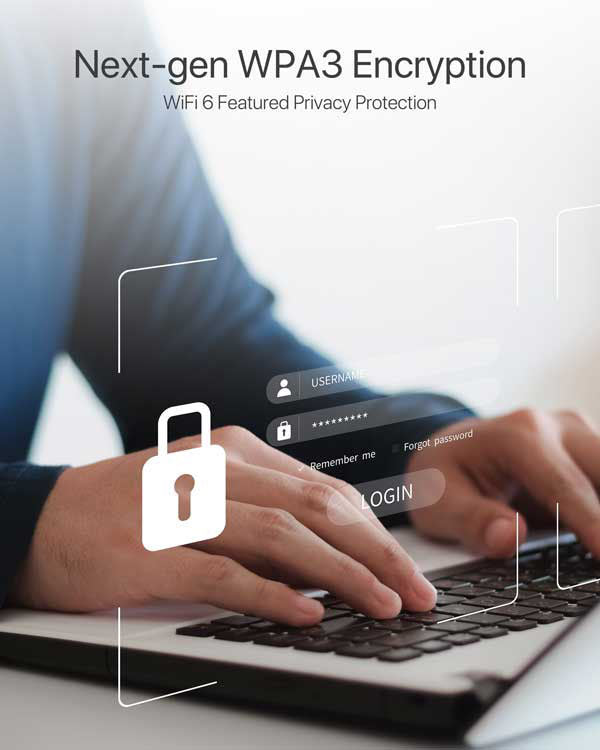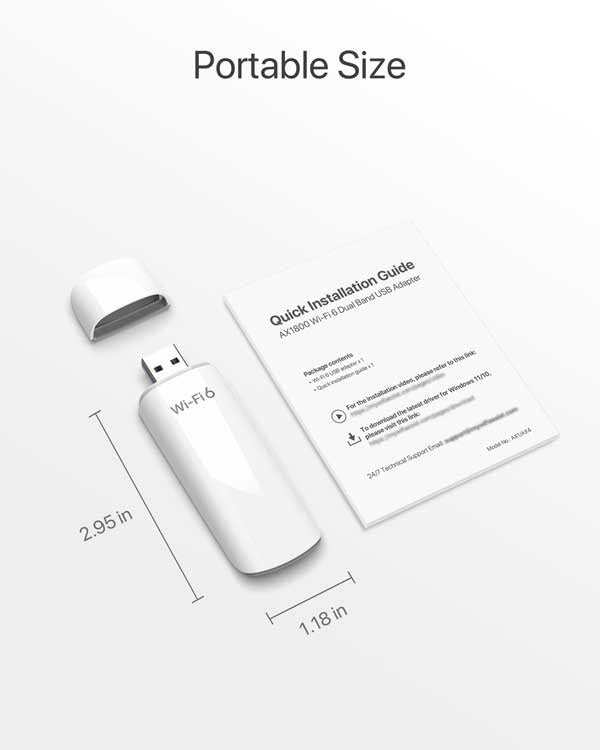 AX1800 USB WiFi 6 Adapter for PC - AX1
$40.99
·Upgrade PC to Next-gen WiFi 6
: Revolutionary OFDMA and MU-MIMO technology reduce lags for your PC. This WiFi 6 USB adapter is perfect for seamless streaming, large file download, responsive real-time gaming
·1800Mbps Fast Speed
:
This 
USB WiFi 6 adapter
 boosts wireless speeds up to 1201Mbps on 5Ghz or 574Mbps on 2.4Ghz on your desktop or laptop. 38% faster than any AC1300
 USB WiFi adapters
·Receive Targeted Signal
: With Beamforming, this WiFi 6 wireless USB adapter creates a fast and focused Wi-Fi connection even when your router is on a different floor. Improves signal range overall
·USB 3.0 Port
: Works up to 10 times faster than USB 2.0 and ensures stable performance for the WiFi 6 USB adapter. Backward compatible with USB 2.0
·

Windows 11 / 10 Compatibility
:
For optimal performance on Windows 11 / 10, please download the latest driver from the website included in product package. Win 8/7/Vista/XP Not supported
Upgrade Your PC to Next-gen WiFi 6
By plugging this USB WiFi 6 adapter into any USB ports of your desktop or laptop PC, you can get incredible Wi-Fi speeds up to 1201Mbps on the 5GHz WiFi band or 574Mbps on the 2.4GHz WiFi band. It reduces latency and delivers uninterrupted WiFi connectivity for your PC with Wi-Fi 6 technologies such as OFDMA, 1024-QAM, MU-MIMO. This usb wireless adapter is perfect for seamless streaming, large files transfer, and responsive real-time gaming. WiFi security for your desktop and laptop PC is greatly improved with WPA3 encryption. Upgrade now to improve your online experience!
Lightning Fast Speed
The WiFi 6 adapter delivers 1.5 times the speed as that of AC1200 and 3 times that of AC600, boosting 1800Mbps wireless speed for your computer. You can fully utilize your Gigabit Internet plan and have faster and more reliable WiFi.
Efficient and Reliable WiFi
Built with OFDMA and MU-MIMO technology, the USB WiFi stick creates the most efficient and reliable wireless connection, reducing lags for your desktop and laptop PC. Make WiFi seamless with this WiFi network adapter.
Boosted Speed and Range
Realtek AX1800 WiFi Chip
Equipped with the latest standard WiFi 6 chipset, the wifi dongle improves WiFi performance for your PC, keeping your WiFi stay fast even though your PC is connected to a multiple-device network.
2 X Internal Antennas
Two internal antennas with Beamforming technology intelligently receive a focused signal from your router, ensuring superior range and stability. Enjoy lag-free streaming and gaming throughout your home.
Universal Compatibility
This USB WiFi adapter works with any WiFi routers of 802.11 ax/ac/n. Use it on your desktop and laptop PC to have better WiFi.
Fulfill Your Online Needs
Streaming
No more frozen screens when you are watching 4K movies or live streaming. Spend quality screen time with your families by using this wifi usb adapter for pc.
Large File Transfer
Consistent WiFi connection for PC makes large file download and upload easy. Download Gigabit files in seconds and say goodbye to WiFi dropping off.
Online Gaming
Utilize the cutting-edge new WiFi technology to defeat your worst enemy - high latency. Enjoy lag-free online gaming on desktop and laptop PC is easier than ever before!
Setup Video
Download Center
Contact us